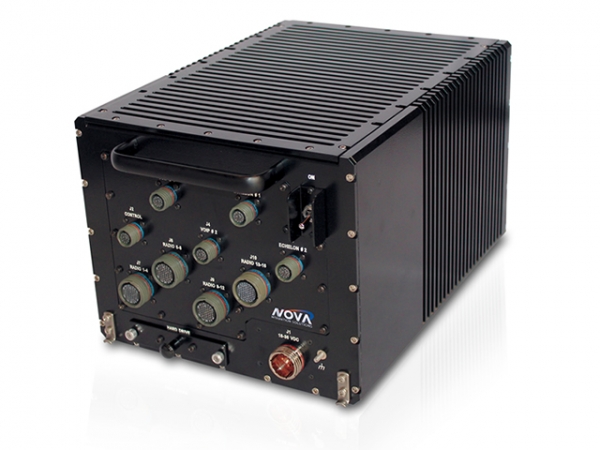 The Nova Integration Solutions (NIS) Class 3100 contains a portfolio of sealed, conduction cooled ATR reference designs conforming to standard ARINC 404A sizes (1/4 Short to 1 ½ Long) while also being fully scalable and capable of housing all Eurocard board types, form factors and slot counts.
All NIS ATR Chassis utilize a machined aerospace grade aluminum alloy #6061-T651 housing with formed aluminum internal structures. This housing design provides superior strength and rigidity while also ensuring MIL-STD-461 compliance for EMI/EMC.
NIS engineering specializes in advanced thermal management and packaging techniques with the design process starting by considering the most efficient cooling method based on the environment and program specifications. Prior to PDR, FEA thermal analysis presentations are shown validating the design direction under worst case scenarios (high altitude, high ambient temperature and full power load). Heat sink geometry (thickness, length and orientation) as well as heat piping or advanced materials are considered if necessary.
When more aggressive cooling is needed the Class 3200 is recommended which offers air cooling over a conduction cooled chassis.
The Class 3100 ATR Chassis accommodate up to an 18-slot cPCI, VME, or VPX backplane. Fully compliant with IEEE 1101.2, the internal subrack is fully machined and ready to accept various types of wedgelocks for 3U or 6U convection-cooled plug-in boards on 0.8", 0.85" or 1.0" pitch.
Power supply options include fixed or plug in style power supplies with outputs up to 2kW. Input power options include single or three phase VAC inputs including 100-264 VAC @ 47-63 Hz; 115 VAC @ 400 Hz; and nominal VDC inputs from 12VDC up to 270VDC. Custom power systems can be designed in collaboration with parent company Technology Dynamics, Inc.
I/O connector options include D38999 Series-III, MIL-STD-26482 and other circular types commonly found in military electronic systems. For moderate to large unit volume, NIS will design an I/O printed circuit board to reduce cabling complexity and direct labor costs, passing those savings to you, our customer.
Standard Models:
| | | |
| --- | --- | --- |
| Model Number | ARINC Size | Data Sheet |
| Model 3100 | Custom | Coming Soon! |
| Model 3110 | Dwarf | Coming Soon! |
| Model 3120 | ¼ Short | Coming Soon! |
| Model 3125 | ¼ Long | Coming Soon! |
| Model 3130 | 3/8 Short | Coming Soon! |
| Model 3135 | 3/8 Long | Coming Soon! |
| Model 3140 | ½ Short | Download |
| Model 3145 | ½ Long | Coming Soon! |
| Model 3150 | ¾ Short | Coming Soon! |
| Model 3155 | ¾ Long | Download |
| Model 3160 | 1 Short | Coming Soon! |
| Model 3165 | 1 long | Coming Soon! |
| Model 3170 | 1 ½ Short | Coming Soon! |
| Model 3175 | 1 ½ Long | Coming Soon! |
Backplanes:
All Eurocard backplanes supported

CompactPCI (cPCI)
VME and VME64x (ANSI/VITA 1.1-1997)
VXS (ANSI/VITA 41)
VPX (VITA 46), OpenVPX (VITA 65) and VPX REDI (VITA 48)
Hybrid, custom and semi-custom configurations designed and fabricated in house.

3U or 6U backplane and plug in boards
Convection cooled plug in boards.
8", 0.85", 1" and mixed board pitch supported
Custom I/O panels can be discretely wired, plug into the backplane via right angle connectors, and/or utilize semi-rigid flex circuitry to maintain a homogenous backplane and I/O board structure.
Visit the Custom Backplane page for more information!
Power System:
VDC Input
12V, 24V, 28V, 48V, 72V and 270V nominal input
VAC Input
110VAC , 220VAC or autoranging
47-440Hz aircraft power support
3-phase power input support
Custom
Custom configurations can be produced in collaboration with parent company Technology Dynamics, Inc.
EMI Filtering
MIL-STD-461 compliant EMI filters produced by sister company Nova Electric are included with all ATRs. Custom and semi-custom configurations available.
Voltage Holdup
MIL-STD-704 voltage hold up available as an option
Visit the Custom Power Systems page for more information!
Common Specifications (abbreviated):
The specifications listed are the minimum met by all ATR Chassis. Please visit individual product pages to see which models exceed these specifications.
Temperature
MIL-STD-810F
Up to -40°C to +70°C operating
Up to -40°C to +85°C non-operating
Temperature ranges vary by application, installation environment, and if heater option is selected
Humidity
MIL-STD-810F / RTCA/DO-160F
Altitude
MIL-STD-810F, up to 40,000ft (operating)
MIL-STD-810F, up to 60,000ft. (non-operating)
Vibration
MIL-STD-810F
Shock
MIL-STD-810F
Bench Handling
MIL-STD-810F
Transportation
MIL-STD-810F
Inclination
0° to 30° in any axis
EMI/EMC
MIL-STD-461E, fully sealed enclosure
ESD
MIL-STD-1686A
Sand/Dust
MIL-STD-810F, fully sealed enclosure
Rain
MIL-STD-810F, fully sealed enclosure
Salt Fog
MIL-STD-810F, with conformal coated boards
Grounding
MIL-STD-464
Aircraft Specifications
RTCA/DO-160F
Construction:
Machined aluminum (aerospace grade 6061-T6) housing with formed sheet metal (aluminum 5032-H32) internal structures and brackets
Carbon fiber, composites and advanced materials optional and used as necessary
Dip braised (optional)
Chemical film per MIL-C-5541, Class 3, Gold Color (standard)
Customer defined MIL-Spec painting and silk screen or engraving
Features:
Removable and customizable front I/O panels
Extensive use of captive hardware
Cleanable air filters on all air intakes (where applicable)
Louvered air intake and exhaust (where applicable)
Hard mount, cold plate, ARINC shock tray and custom mounting
Applications:
UAV
Fighter Jet
Commercial aircraft
Prop and Turbo prop aircraft
Helicopter