System integration can be complex and implemented at multiple levels. However, a top-down comprehensive approach must always be taken to produce a fully functional system. NOVA Integration Solutions considers all aspects of the szystem to be important to include component selection, the embedded processing system, the power supply, the cooling subsystem and the operating software. Our expert approach is to understand each Customer's application with the objective to provide a system-level validation process starting with the hardware through to the software installation.
Should our Customers prefer to integrate their end-user products, we will ask the Customer to supply their products to us in a cooperative manner in support of developing a functional prototype. A fit check is also performed to insure a comprehensive configuration is delivered. Thereafter the choice to integrate is Customer specific. We will support any level of product integration that will be required.
Customers may select any level of integration:
Component selection and procurement from 3rd party vendors
Integration of hardware, power supply, and enclosure
Software installation including operating system, drivers, etc.
System health monitoring, set-up and calibration
Functional, environmental and compliance testing
Full documentation package including all of the above
Turn-key solution
Post-delivery product support (warranty, repairs and customer service)
The selection of highly reliable commercial-off-the-shelf products is the key to delivering a system that meets the performance and environmental requirements. Power consumption and heat dissipation is a critical. Each application is different and requires a top-down approach to include the use of other accessories to improve reliability as listed below.
Accessories
System Environmental Monitor (SEM)
Hard drives (solid state disk or sealed rotating; hot swap or fixed; etc.)
Optical drives
Hot swap fans
Redundant N+1 power supply systems
Modular I/O panels and service ports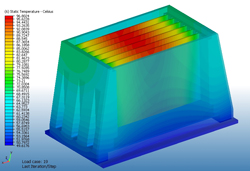 For all programs, a dedicated Program Manager will be assigned at the time of award, and provide a single point of contact from inception to completion for the project. Unlike most companies, your Program Manager will also serve as the sales, contracts, and customer support representative to include the engineering, manufacturing, and the logistics services needed to manage your program from inception to completion.
The Program Management Process
Proposal Generation
Award (Kickoff Meeting, Program Reviews and Scheduling)
Preliminary and Critical Design Reviews (PDR and CDR)
Design and Engineering
System Integration
Test and Validation
Manufacturing (Prototyping and Production)
Post Delivery Support