MODEL 1351
MIL-SPEC BLACK & WHITE LASER PRINTER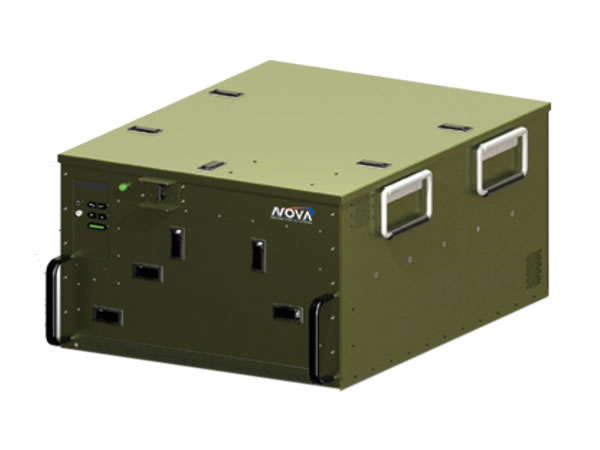 2400 X 600 dpi print resolution
Fast Ethernet and USB 2.0 ports via Rugged Military Circular Connector)
Tested and Passed:

MIL-STD-810F Shock, Method 516.5
MIL-STD-810F Vibration, Method 514.5
MIL-STD-461E EMi/EMC
MIL-STD-704E Transient
RTCA/DO-160F Humidity, Section 6.3.1, Category A
Input power options:

115 VAC @ 47-63 Hz
220 VAC @ 50 Hz
18-32 VDC via External Inverter
Tabletop, Rackmount or ARINC Style Shock Tray Mounting
Automatic Duplex Printing
Heater for -20°C or -40°C Operation
256 MHz Processor and 32 MB Memory
Product Overview:
Model 1351 is NOVA's second-generation Military Grade  monochrome laser printer. Selected by military land forces, the 1351 continues NOVA's tradition of providing a battlefield-ready printer  meeting MIL-STD-461 (EMI/EMC), MIL-STD-704 (transients) and MIL-STD-810 for shock, transportation, bench handling, vibration, crash acceleration, explosive atmosphere, sand and dust, temperature, altitude and humidity.
Built around Brother's HL-L2360DW engine, the 1351 adds features  from its predecessor such as faster print speed, upgraded USB port, built-in Ethernet port, 2400 x 600 dpi effective print output, lower power consumption, front panel status indicator LEDs, and easy to use front panel controls. Toner and drum consumables used in the 1351 are standard Brother replacements.
Paper ingress is handled elegantly through a sealed, hinged access door on the front of the printer housing. Paper egress is accessed from the hinged top cover or the front door held tight with quarter turn latches.
Available options include 220 VAC or 18-36 VDC input power via external military grade inverter provided by parent company Technology Dynamics, Inc. (www.technologydynamicsinc.com). Standard mounting configurations include tabletop, 19" rackmount or ARINC style shock tray recommended for vehicle and other high shock applications.
This upgraded unit includes an EMI filter provided by sister division Nova Electric (www.novaelectric.com), Steel-coil isolators, optional heater and ability to mount on an external ARINC mounting tray. This unit is also further protected from the elements by conformal coating of PCBs and further ruggedization of the print engine.
Environmental Characteristics:
Temperature, operating
5°C to +50°C
-20°C to +50°C w/ heater
Temperature,
non-operating
-20°C to +71°C
Humidity
RTCA/DO-160F, Section 6.3.1, Category A, 6% to 95% RH, non-condensing
Rapid decompression
MIL-STD-810F, Method 500.4, Procedure III from 8,000 ft. up to 41,000 ft. in 15 sec.
Altitude, operating
-1,500 to 15,000ft.
Altitude,
non-operating
-1,500 to 45,000ft.
Vibration, operating
MIL-STD-810F, Method 514.5, Procedure I, Cat 8 Wheeled Vehicle, US Army CHS-3 profile
Vibration,
non-operating
MIL-STD-810G, Method 514.6, Proc I, secured cargo, basic transportation
Shock, operating
MIL-STD-810F, Method 516.5 Procedure I (functional shock for wheeled vehicles)
Shock, transportation
MIL-STD-810F, Method 516.5, Procedure IV, Transit Drop
Shock, non-operating (Bench handling)
MIL-STD-810F, Method 516.5 Procedure VI
Explosive atmospher
MIL-STD-810F, Method 511.4, Procedure I (up to 11,000 ft.)
Crash acceleration
MIL-STD-810F, Method 516.5 Procedure V (16G limit)
Inclination
0° to 30° in any axis
EMI/EMC
MIL-STD-461E, Method CE101, CE102, CS101, CS102, CS114, CS115, CS116, RE101, RE102, RS101, RS103
ESD
DO-160E, Section 25
Grounding and bonding
MIL-STD-464 & BAC5117-1
Sand and dust
MIL-STD-810F, Method 510.4, Proc. I, II & III
Rain
MIL-STD-810F, Method 506.4, Procedure III
Electrical Characteristics:
Input Power (standard)
110 VAC @ 60Hz
220 VAC @ 50Hz
18-32 VDC
Power Consumption
Printing 468W
Standby 58W
Data Interface
Ethernet via RJFTV D38999
USB 2.0 via USBFTV D38999
EMI filtering
MIL-STD-461 compliant, military grade input power EMI Filter standard
Power transients
MIL-STD-704 or MIL-STD-1275
Physical Characteristics:
| | |
| --- | --- |
| Dimensions | 10.9" H x 17.43" W x 22.58" D |
| Weight | 40 lbs. (Standard tabletop) |
| Mounting | Tabletop,  Rackmount or Shock Tray |
Performance Characteristics:
| | |
| --- | --- |
| Resolution | 2400 x 600 dpi |
| Print Speed | 32 ppm black |
| Duplex Printing | Automatic |
| Memory | 32 MB Installed |
| Emulations | GDI, PCL6 |
| Paper Sizes | Letter (8.5" x 11") & A4 |
| Paper Input | 250-sheet input tray |
| Processor | 266 Mhz |
Ordering Table:

Consumables
| | |
| --- | --- |
| 56-100014-100 |  Model 1351, TN660, High Yield Black Toner Cartridge |