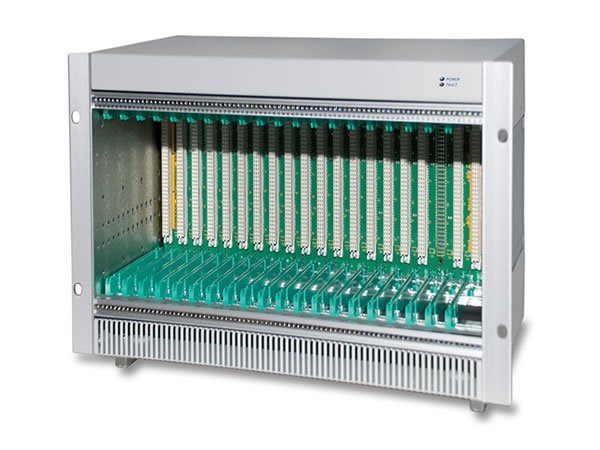 The Nova Integration Solutions (NIS) Class 4600 Flush Front Crates feature a full portfolio of rackmountable and convection cooled designs from 1U in height to 12U. These chassis reference designs accommodate popular backplane types including 3U and 6U form factors of CompactPCI (cPCI), VME, VME64x, VXS, OpenVPX, or VPX. These enclosures can even support multiple systems by using split or discrete backplanes with a common or dedicated power supply to each "segment."
Its flush front subrack and rear transition module (RTM) subrack comply with IEEE 1101.1/.10 and /.11, the latter configurable for 3U or 6U x 80mm modules. Subrack support for legacy VME boards (IEEE 1101.1) is available.
Power system options include AC or DC input; internally mounted or PICMG 2.11 plug-in styles; single, dual, triple or quad outputs up to 2kW.
Optional is NOVA's System Environmental Monitor (SEM) that the user can locally or remotely monitor and control fan speed, temperature, input/output power and user-definable I/O. Both HTTP and SNMP protocols are included in the SEM's firmware.
Customization is available on all Class 4600 models. Please contact NIS with your unique requirements!
Standard Models:
| Model Number | Rack Height | Webpage /Data Sheet |
| --- | --- | --- |
| Model 4601 | 1U | Coming Soon! |
| Model 4602 | 2U | Coming Soon! |
| Model 4603 | 3U | Coming Soon! |
| Model 4604 | 4U | Link / Download |
| Model 4605 | 5U | Coming Soon! |
| Model 4606 | 6U | Coming Soon! |
| Model 4607 | 7U | Coming Soon! |
| Model 4608 | 8U | Link / Download |
| Model 4609 | 9U | Coming Soon! |
| Model 4610 | 10U | Coming Soon! |
| Model 4611 | 11U | Coming Soon! |
| Model 4612 | 12U | Coming Soon! |
Common Specifications:
The Class 4600 chassis are designed to meet the following specifications:
Temperature, operating

-20°C to +50°C (100% rated output)
-20°C to +70°C (75% rated output)
Temperature rating can change due to application, environmental conditions or integrated components

Temperature, non-operating
Humidity

10% to 95% non-condensing

Altitude, operating

-1,000 ft. to  25,000 ft.

Altitude, non-operating
Vibration

MIL-STD-810G Method 514.5, Procedure I – General Vibration (Transportation – Secured Cargo)

Shock, operating

MIL-STD-810G, Method 516.5 Procedure VI

Shock, non-operating

MIL-STD-810G, Method 516.5 Procedures I, IV and VI

Bench Handling

MIL-STD-810F, Method 516.5, Procedure VI

Inclination
EMI/EMC
ESD
Backplanes & Motherboards Supported:
All passive Eurocard backplanes supported

CompactPCI (cPCI)
VME and VME64x (ANSI/VITA 1.1-1997)
VXS (ANSI/VITA 41)
VPX (VITA 46), OpenVPX (VITA 65) and VPX REDI (VITA 48)
Hybrid, custom and semi-custom configurations designed and fabricated in house.

3U or 6U backplane and plug in boards
Convection cooled boards.
8", 0.85", 1" and mixed board pitch supported
Visit the Custom Backplane page for more information!
Power System:
VAC Input (standard)
96 – 264 VAC @ 47-63 Hz
VDC Input (optional)
12V, 24V, 28V or 48V nominal input
PSU Output
300W Plug In (standard 3U backplane)
500W Plug In (standard 6U backplane)
Up to 2kW depending on configuration
Hard mounted PSU options available
Input Power Connector
NEMA 5-15P (standard)
Custom
Custom configurations can be produced in collaboration with parent company Technology Dynamics, Inc.
Visit the Custom Power Systems page for more information!
Construction:
Formed sheet metal (aluminum 5032-H32) chassis
Carbon fiber, composites and advanced materials optional and used as necessary
Chemical film per MIL-C-5541, Class 3, Clear Color (standard)
Customer defined MIL-Spec painting and silk screen or engraving