CLASS 4400 – INDUSTRIAL GRADE CHASSIS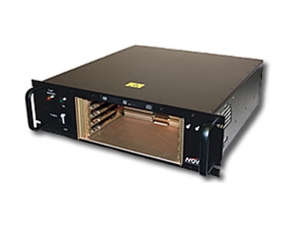 The Nova Integration Solutions (NIS) Class 4400 Industrial Grade Chassis contains a full portfolio of rackmountable and convection cooled designs from 1U in height to 12U. These chassis reference designs accommodate popular backplane types including 3U and 6U form factors of VME, VME64x, VXS, OpenVPX, CompactPCI, or VPX as well as PICMG passive backplanes or commercial style motherboards such as ATX.
Pulling from the military product lines, these industrial chassis have features such as field replaceable fan trays with an MTTR of <2 minutes, extensive use of captive hardware and an optional System Environmental Monitor.
Peripherals such as hard drives or I/O panels can be added to any model for added functionality. An Optional Slim Line DVD Drive is shown in the product photograph.
TMP Series Industrial-grade Power Supplies, provided by parent company Technology Dynamics, are used on all Class 4400 Chassis and range from 450W to 1kW. These modular power supplies are fully configurable per application and provide an excellent balance between cost and performance.
Customization is available on all Class 4400 models. Please contact NIS with your unique requirements!
Standard Models:
| Model Number | Rack Height | Webpage /Data Sheet |
| --- | --- | --- |
| Model 4401 | 1U | Coming Soon! |
| Model 4402 | 2U | Coming Soon! |
| Model 4403 | 3U | Link / Download |
| Model 4404 | 4U | Coming Soon! |
| Model 4405 | 5U | Coming Soon! |
| Model 4406 | 6U | Coming Soon! |
| Model 4407 | 7U | Coming Soon! |
| Model 4408 | 8U | Coming Soon! |
| Model 4409 | 9U | Coming Soon! |
| Model 4410 | 10U | Coming Soon! |
| Model 4411 | 11U | Coming Soon! |
| Model 4412 | 12U | Coming Soon! |
Common Specifications:
The Class 4400 chassis are designed to meet the following specifications:
Temperature, operating

-20°C to +50°C (100% rated output)
-20°C to +70°C (75% rated output)
Temperature rating can change due to application, environmental conditions or integrated components

Temperature, non-operating
Humidity
Altitude, operating

-1,000 ft. to  10,000 ft.

Altitude, non-operating
Vibration, random
Vibration, sinusoidal
Shock, operating
Shock, non-operating
Bench Handling

MIL-STD-810F, Method 516.5, Procedure VI

Inclination
EMI/EMC
ESD
Sand/Dust

Highly resilient with cleanable dust filters

Rain

Highly resilient when louvered air intakes are installed

Grounding
Backplanes & Motherboards Supported:
All passive Eurocard backplanes supported

CompactPCI (cPCI)
VME and VME64x (ANSI/VITA 1.1-1997)
VXS (ANSI/VITA 41)
VPX (VITA 46), OpenVPX (VITA 65) and VPX REDI (VITA 48)
Hybrid, custom and semi-custom configurations designed and fabricated in house.

3U or 6U backplane and plug in boards
Convection cooled boards.
8", 0.85", 1" and mixed board pitch supported
Industrial PICMG backplane supported
Commercial/Industrial motherboard form factors supports such as ATX, micro-ATX, Mini-ITX, Nano-ITX, Pico-ITX and Intel NUC
Embedded and Small form factor single board computers such as PC104, EPIC, EBX, ETX, COMExpress
Custom I/O panels can be discretely wired, plug into the backplane via right angle connectors, and/or utilize semi-rigid flex circuitry to maintain a homogenous backplane and I/O board structure.
Visit the Custom Backplane page for more information!
Power System:
VAC Input (standard)
96 – 264 VAC @ 47-63 Hz
VDC Input (optional)
12V, 24V, 28V, 48V, 72V or 270V  nominal input
PSU Output
450W (standard)
650W (optional)
1kW (optional)
Custom
Custom configurations can be produced in collaboration with parent company Technology Dynamics, Inc.
Visit the Custom Power Systems page for more information!
Construction:
Formed sheet metal (aluminum 5032-H32) chassis
Carbon fiber, composites and advanced materials optional and used as necessary
Chemical film per MIL-C-5541, Class 3, Gold Color (standard)
Customer defined MIL-Spec painting and silk screen or engraving
Features:
Add functionality with peripherals and customizable front I/O panels
Extensive use of captive hardware
Cleanable air filters on all air intakes (where applicable)
Louvered air intake and exhaust (where applicable)
System Environmental Monitor (SEM) available as an option