CLASS 4100 – MIL-SPEC CHASSIS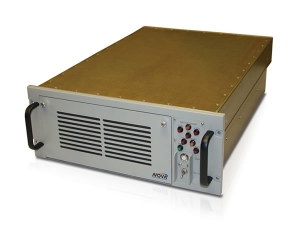 The Nova Integration Solutions (NIS) Class 4100 contains a portfolio of convection cooled military tested reference designs which incorporate state-of-the-art design and features tailored to specific applications or environment conditions.
Mil-grade chassis models are available in 1U through 12U rack heights, support various types of passive backplane types, PICMG, motherboards or single board computers.
Popular backplane types supported include VME, VME64x, VXS, OpenVPX, etc., CompactPCI, PCIe, PXI, or active motherboards in ATX or Server form factors; completely custom / hybrid host board form factors are also supported.
Hallmarks of NIS military-grade chassis products are superior structural strength, virtually non-existent torsional flex, scalability, low cost of ownership, low maintenance, aggressive or controllable airflow, and low MTTR. Each chassis family has undergone Finite Element Analysis (FEA) to fully optimize mechanical design. NIS's engineering process also includes static and dynamic analysis to determine natural frequency, a critical step in characterizing vibration and shock performance.
Some models accommodate NIS's System Health Monitor (SEM), a microcontroller-based, I2C monitoring system that monitors and controls key chassis parameters to ensure optimal operating conditions are maintained. Via local or remote communication ports, SEM's HTTP and SNMP protocols result in fast and simple setup. Temperature is monitored; fan speed is controlled; input and output power levels are monitored. System power-down under a fault condition may be enabled or disabled, or Battlefield Short operation may be enabled.
Standard Models:
| Model Number | Rack Height | Webpage /Data Sheet |
| --- | --- | --- |
| Model 4101 | 1U | Link | Download |
| Model 4102 | 2U | Link | Download |
| Model 4103 | 3U | Link | Download |
| Model 4104 | 4U | Link | Download |
| Model 4105 | 5U | Coming Soon! |
| Model 4106 | 6U | Coming Soon! |
| Model 4107 | 7U | Link | Download |
| Model 4108 | 8U | Coming Soon! |
| Model 4109 | 9U | Coming Soon! |
| Model 4110 | 10U | Coming Soon! |
| Model 4111 | 11U | Coming Soon! |
| Model 4112 | 12U | Coming Soon! |
Common Specifications:
The Class 4100 chassis have been tested to and passed the following specifications:
Temperature, operating

-20°C to +50°C per MIL-STD-810F
Temperature rating can change due to application, environmental conditions or integrated components.

Temperature, non-operating

-40°C to +70°C per MIL-STD-810F

Humidity

10% to 95% per MIL-STD-810F

Altitude, operating

-1,000 ft. to  15,000 ft. per MIL-STD-810F

Altitude, non-operating

-1,000 ft. to 40,000 ft. per MIL-STD-810F

Vibration

MIL-STD-810F, Method 514.5, Procedure I

Shock

MIL-STD-810F, Method 516.5, Procedure I & VI

Bench Handling
Transportation
Inclination
EMI/EMC

MIL-STD-461E, CE101, CE102, CS101, CS114, RE101, RE102, RS102, RS103

ESD
Power Transients

MIL-STD-704 or MIL-STD-1275 (optional)

Sand/Dust

Highly resilient with cleanable dust filters

Rain

Highly resilient when louvered air intakes are installed

Salt Fog

MIL-STD-810F, with conformal coated boards

Grounding
Backplanes & Motherboards Supported:
All passive Eurocard backplanes supported

CompactPCI (cPCI)
VME and VME64x (ANSI/VITA 1.1-1997)
VXS (ANSI/VITA 41)
VPX (VITA 46), OpenVPX (VITA 65) and VPX REDI (VITA 48)
Hybrid, custom and semi-custom configurations designed and fabricated in house.

3U or 6U backplane and plug in boards
Convection cooled boards.
8", 0.85", 1" and mixed board pitch supported
Industrial PICMG backplane supported
Commercial/Industrial motherboard form factors supports such as ATX, micro-ATX, Mini-ITX, Nano-ITX, Pico-ITX and Intel NUC
Embedded and Small form factor single board computers such as PC104, EPIC, EBX, ETX, COMExpress
Custom I/O panels can be discretely wired, plug into the backplane via right angle connectors, and/or utilize semi-rigid flex circuitry to maintain a homogenous backplane and I/O board structure.
Visit the Custom Backplane page for more information!
Power System:
VDC Input
12V, 24V, 28V, 48V, 72V and 270V  nominal input
VAC Input
110VAC , 220VAC or autoranging
47-440Hz aircraft power support
3-phase power input support
Custom
Custom configurations can be produced in collaboration with parent company Technology Dynamics, Inc.
EMI Filtering
MIL-STD-461 compliant EMI filters produced by sister company Nova Electric are included with all models. Custom and semi-custom configurations available.
Voltage Holdup
MIL-STD-704 voltage hold up available as an option
Visit the Custom Power Systems page for more information!
Construction:
Machined aluminum (aerospace grade 6061-T6) housing with formed sheet metal (aluminum 5032-H32) internal structures and brackets
Carbon fiber, composites and advanced materials optional and used as necessary
Dip braised (optional)
Chemical film per MIL-C-5541, Class 3, Gold Color (standard)
Customer defined MIL-Spec painting and silk screen or engraving
Features:
Removable and customizable front I/O panels
Extensive use of captive hardware
Cleanable air filters on all air intakes (where applicable)
Louvered air intake and exhaust (where applicable)
System Environmental Monitor (SEM) available as an option