CLASS 5300 – RUGGED FIREWALL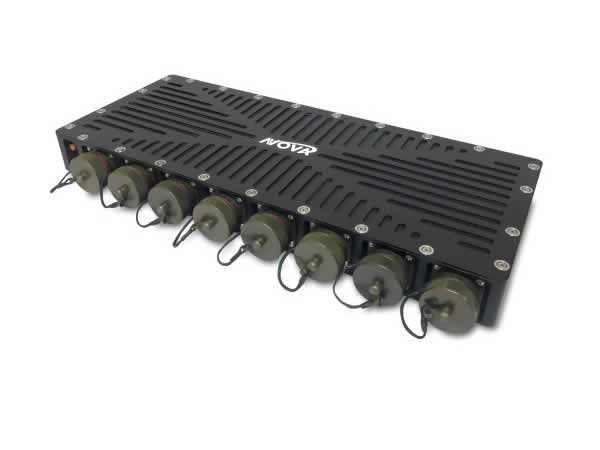 The Class 5300 contains a portfolio of standard COTS Rugged Network Firewalls suitable for harsh environments. For ease of use, integra
tion and training, Nova Integration Solutions selects proven and well documented Small-to-Medium Business (SMB) and Enterprise class firewalls from manufacturers such as Checkpoint and Cisco and integrates these devices into sealed military grade enclosures. Prior to integration, the COTS Routers are subjected to a proprietary ruggedization process making the equipment more resilient.
All enclosures are conduction cooled, sealed, and are available in table top, rack mounting or shock tray mount configurations. Internal components are all military grade including Teflon wires, shielded cables, military circular connectors, MIL-STD-461 compliant EMI filter and power system.
All devices support highly rugged and MIL-spec applications utilized by the defense/aerospace markets as well as high reliability industrial such as railway and utilities. Heaters are available for applications where operation in freezing temperatures is a requirement.
If your preferred device is not shown please contact factory for a semi-custom design based on our proven reference designs.
Standard Models:
Rugged Firewall
| Model # | Description | COTS Device | Data Sheet |
| --- | --- | --- | --- |
| 5320 | SMB, RUGGED FIREWALL | CHECKPOINT 1180 | |
| 5330 | SMB, RUGGED FIREWALL, CISCO | CISCO ASA5505 | |
| 5340 | ENTERPRISE CLASS, RUGGED FIREWALL | CHECKPOINT 4200 | |
| 5350 | ENTERPRISE CLASS, RUGGED FIREWALL, CISCO | CISCO ASA5515 | |
Features:
Standard and VPN Routers
Small-Medium Business (SMB) and Enterprise class routers
Popular brands such as Cisco and Ubiquiti supported
Power and I/O connectors can be changed per customer requirement
1U and 2U rugged enclosures with extensive use of captive hardware
Tabletop, rack mount or shock tray mounted
Heater available for operation in freezing temperatures
Power System:
VDC Input
18-32VDC Standard
12V, 24V, 28V, 48V, 72V and 270V nominal input
VAC Input
110- 220VAC autoranging Standard
47-440Hz aircraft power support (optional)
3-phase power input support (optional)
Custom
Custom configurations can be produced in collaboration with parent company Technology Dynamics, Inc.
EMI Filtering
MIL-STD-461 compliant EMI filters produced by sister company Nova Electric are included with all embedded computer products. Custom and semi-custom configurations available.
Voltage Holdup
MIL-STD-704 voltage hold up available as an option
Common Specifications (abbreviated):
The specifications listed are the minimum met by all Rugged switch, router and firewall products. Please visit individual product pages to see which models exceed these specifications.
Temperature

MIL-STD-810F
Temperature ranges vary by model and if heater option is selected

Humidity

MIL-STD-810F / RTCA/DO-160F

Altitude

MIL-STD-810F, up to 40,000ft (operating)
MIL-STD-810F, up to 60,000ft. (non-operating)

Vibration

MIL-STD-810F, Method 514.6, Procedure I

Shock

MIL-STD-810F, Method 516.6, Procedures I

Bench Handling

MIL-STD-810F, MIL-STD-810F, Method 516.6, Procedures V & VI

Transportation
Inclination
EMI/EMC
ESD
Sand/Dust

MIL-STD-810F
RTCA/DO-160E, Paragraph 12.3, Category D

Rain
Grounding
Fluid Contamination

Jet fuel DERD 2494, hydrolic fluid MIL-H-5606E, lube oil mixtures to DERD 2497/ MIL-L-7808 & soap water

Sealing
Construction:
Machined aluminum (aerospace grade 6061-T6) housing with formed sheet metal (aluminum 5052-H32) internal structures and brackets
Chemical film per MIL-C-5541, Class 3, Gold Color (standard)
Customer defined painting and silk screen or engraving
Sealed, fan-less conduction cooled designs
Applications:
UAV
Fighter Jet
Commercial aircraft
Prop and Turbo prop aircraft
Helicopter
Naval and submarine
Explosion Proof
Law Enforcement / First Responders
Anti-vandal
Outdoor Utilities
Construction, mining, oil/gas exploration
Railway